Samantha Cayto is fast becoming a favourite of our Macky who absolutely loved this brilliant mix of darkly intriguing Sci Fi and Slave Fic! Pop back in a few days time to check out her upcoming review but in the meantime check out the teaser excerpt and enter the giveaway below for your chance to win a Totally Bound eBook of your choice.
A Word from Samantha Cayto
Sci-fi, fantasy, paranormal – these were my favorite shows and movies from early childhood. I watched Star Trek in its original run and Mr. Spock was my first crush. Yes, Captain Kirk had a certain over-the-top masculine charm, but who could resist the icy cool of his first officer? Spock was the perfect blend of strength and intellect. Oh, how I dreamed of being the one to crack that emotionless façade. And that episode where he goes home to mate – still my favorite one. That showed the animalistic core that remained inside him. Barely leashed power in a man is hot as hell. It's a basic part of romance stories. I wonder if Gene Roddenberry truly appreciated what he was creating when he conceived Spock.
Then there was Lost in Space and I was torn between sexy Major Don West and the adorable Will Robinson. The brave hothead vs. the intellectual giant. Of course I was too young to consider that I might be able to have both. I used to envy Judy Robinson and also despise her lack of initiative. If I'd been on the Jupiter 2, Don wouldn't have known what hit him. Now when I think of that sixties show, I picture a grown-up Will and Don finally realizing he's been pining away for the wrong Robinson.
More recently I fell in love with the Lord of the Rings trilogy. I even have the DVD box set with deleted scenes and commentary. Orlando Bloom says that they trusted Peter Jackson so much that if he'd told him and Viggo Mortensen to run up and kiss each other, they'd have done it. If only! I know I'm not the only woman out there that would have killed to see that scene play out.
Writing the Alien Slave Masters series, starting with The Captain's Pet, allows me to fully build the worlds I started as a child. I always starred in my fantasy episodes, too, playing the grown-up heroine. As a writer, I can't help but see myself still playing one of the characters in my stories. When I'm writing an MM story, I picture myself as one of the male characters. In The Captain's Pet, I'm Kell, the powerful alien picking out the human I want to play with. It may start out as mere duty, but that doesn't mean I can't suit myself as well. A pretty blond human is just what I'd look for in a pet.
The Captain's Pet by Samantha Cayto
Alien Slave Masters Series book #1

Publisher ~ Totally Bound
Published ~ 2nd June
Genre ~ Science Fiction, M/M Erotic Romance
Rating
Synopsis
When a distant planet's ownership is in dispute, conquering aliens turn defiant human males into pampered sex slaves.
In a not-too-distant future, a lopsided war has led to aliens invading and occupying an Earth settlement. Wid is a young colonist who has been caught harassing the aliens. He and his friends are rounded up and sent to an alien warship patrolling the disputed space. His fate is to serve as a sex slave for the ship's imposing captain. Wid, at first, fights against his enslavement, but soon learns that not only does he stand no chance against the much larger and stronger captain, he isn't sure he even wants to.
Like all Travian males, Kell is bound by duty to defend his people. Having risen to the rank of captain, he nevertheless chafes against the boring and endless patrol of the space invaded by the humans. His misses his family and constantly guards against his scheming first officer. He sees his reward of a human sex slave as more of a nuisance. Yet the pretty, fair-haired human's exotic allure is hard to resist. He finds far more pleasure in the use of his pet than he would like.
Kept naked and leashed, Wid's days are filled with boredom, while his nights wrapped in Kell's arms turn from fear into pleasure. Even as the humans plot their escape, Wid and Kell form a bond and their growing affection cannot be ignored. When tensions boil over among the aliens, Wid and his friends may be Kell and his crew's only chance for survival.

Reader Advisory: This book contains sex scenes of both non-consensual and dubious consent, as well as scenes of violence, abuse and torture.
Purchase Links
Excerpt
Minutes later, only Wid and the commanding alien remained. Even the guards filed out. Putting his arms down by his side, Wid straightened to stand as tall as he could. Pride was all he had left and he was determined to hide his fear. The alien approached him with unhurried steps. When he came within a foot of Wid, he stopped and stared down. With an expression of as much defiance as he could muster, Wid stared back. Given the foot or so difference in their heights, he had to crane his neck back.
For a few seconds, they looked each other in the eye. The alien's thoughts and emotions were impossible to read within the endless depths of his black eyes. Wid wondered if the alien could read him or were the species too different to communicate in subtle ways. Despite the coldness around him, sweat trickled down his back. He suppressed a shudder and silently goaded the male to go ahead and do whatever he intended. The waiting was agony.
Suddenly, as if in response to the unspoken challenge or plea, Wid wasn't sure which is was, the alien lashed out to grab Wid's arm. Instinct made Wid pull away, but it was as futile an effort as it had been for the others. The fingers around his biceps were like a steel vice. Nothing could break that hold. Not wanting to be dragged along, Wid suppressed the urge to struggle and instead picked up his feet to match the long strides of his captor.
They left the hanger and strode down a corridor. The ship held a dark and cold atmosphere. The few aliens they encountered as they wended their way, stared briefly at Wid even as they bowed their heads in quick abeyance of the male who had him. It had to be the captain, or whatever rank they recognized as the one in charge of the ship. Great, just his luck that he had gained the attention of the most powerful, and he assumed, the most ruthless of them all. Then the reason for his destiny popped into his head. Of all the boys standing in that hanger, he'd been the only one with blond hair. A shiver ran up his spine at the implication of why his looks mattered.
Samantha Cayto is a Boston-area native who practices as a business lawyer by day while writing erotic romance at night—the steamier the better. She likes to push the envelope when it comes to writing about passion and is delighted other women agree that guy-on-guy sex is the hottest ever.

She lives a typical suburban life with her husband, three kids and four dogs. Her children don't understand why they can't read what she writes, but her husband is always willing to lend her a hand—and anything else—when she needs to choreograph a scene.
WEBSITE | FACEBOOK | TWITTER | GOODREADS | AMAZON AUTHOR PAGE
Giveaway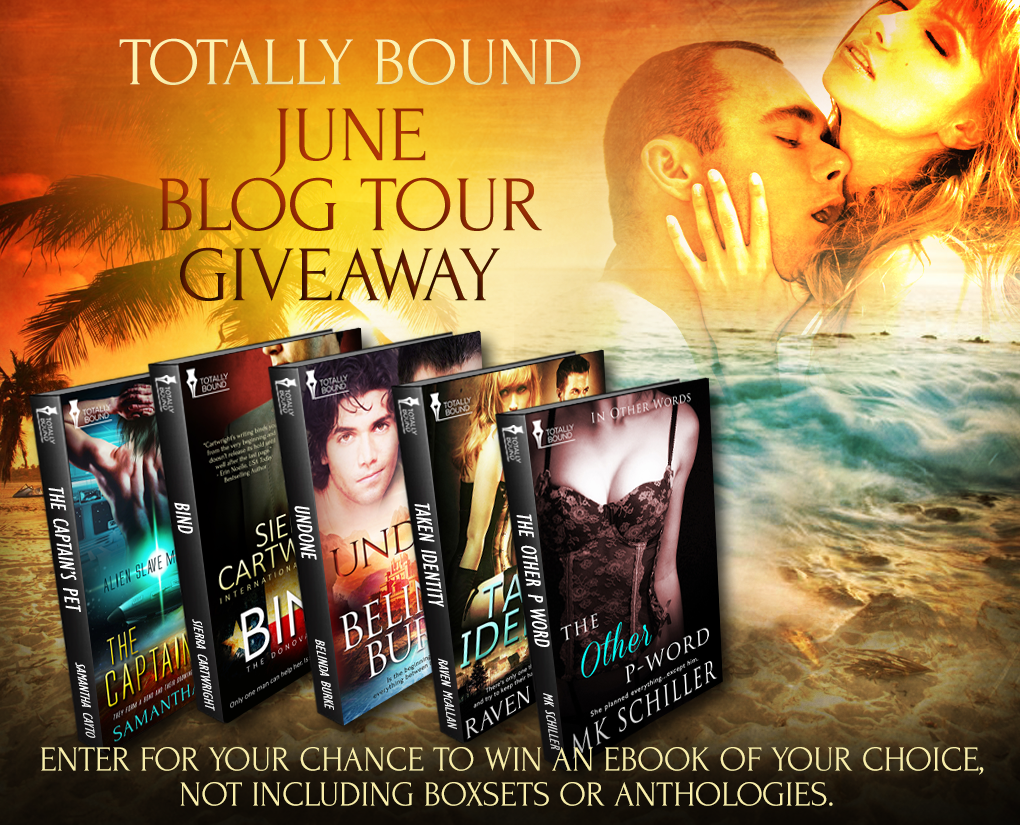 Enter Totally Bound's June blog tour competition for the chance to win an eBook of your choice, not including boxsets or anthologies.
Direct link –> HERE